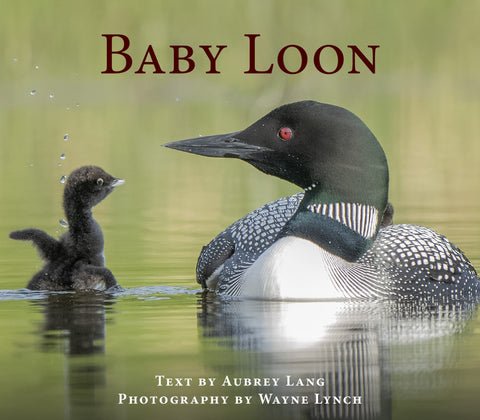 Baby Loon
BK555871
New in the bestselling Nature Babies series! Using simple and informative text, young readers learn about the first year in the lives of baby animals in the wild. In this new title in the series, animal lovers will discover the habitat, diet and early experiences of baby loons.
Estimate Delivery Time is 1 week.
---
About the Author
Recognized and respected as one of North America's leading wildlife and natural history photographers, Wayne Lynch has spent the last forty-two years capturing images of wildlife in wild places the world over. His impressive photo credits include hundreds of magazine covers, thousands of calendar shots, and tens of thousands of images published in over sixty countries. Lynch is also an award-winning science writer, a popular guest lecturer, and a veteran photo safari leader. His practical and entertaining approach to natural history, whether it be through the written or spoken word, has attracted the admiration of audiences worldwide. He has photographed both common and unusual creatures in their native habitat in more than fifty countries, travelling extensively for long periods of time and often undergoing considerable physical hardship to get the "perfect shot."

With an exceptional ability to write for both adults and children, Lynch has authored more than fifth highly acclaimed natural history books, including The Great Northern Kingdom: Life in the Boreal Forest, Wild Birds Across the Prairies, Penguins of the World, Mountain Bears, Bear: Monarchs of the Northern Wilderness, A is for Arctic: Natural Wonders of a Polar World, The Nature Babies Series and the wildly popular children's book The Scoop on Poop: The Fascinating Science of How Animals Use Poop.

Lynch is a Fellow of the internationally recognized Explorers Club and Fellow of the Arctic Institute of North America. Lynch lives in Calgary with his wife of forty-five years, Aubrey Lang.
---
Review
... this series is uniquely useful and valuable because of its excellence and its focus on one species.

- School Library Journal

...Nature Babies sparkle with clear, informative pictures....lively texts that invite repeated reading...

- Bulletin for the Center for Children Books

---
Product details
Publisher: Fitzhenry & Whiteside (March 1 2022)
Language: English
Paperback: 36 pages
ISBN-10: 1554555876
ISBN-13: 978-1554555871
Item weight: 181 g
Dimensions: 20.32 x 0.15 x 17.78 cm
---
We Also Recommend