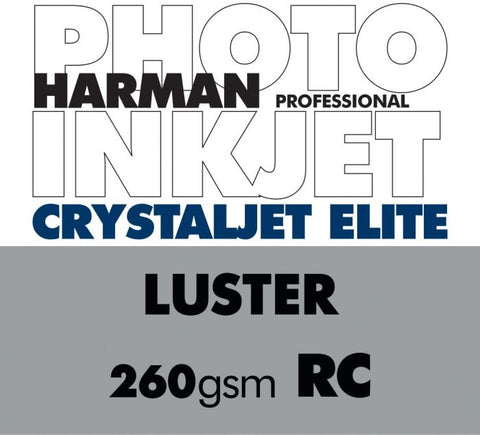 Harman Crystaljet Elite Lustre 17x16 Roll (Special Order)
IL1162457
This popular, versatile inkjet photo paper produces stunning results with a luster finish.
260gsm resin coated paper
Luster finish
Bright white base colour
Enhanced contrast & sharpness
Rich colour gamut and deep tonal range
Robust surface characteristics
HARMAN CRYSTALJET ELITE is an instant dry, resin coated inkjet paper on a bright white base.
Compatible with the latest dye and pigment inkjet printers, take control of your home printing with this easy-to-handle paper capable of matching or exceeding the quality of lab prints.
This robust paper delivers exceptional quality with enhanced contrast and sharpness, a rich colour gamut and a broad tonal range that ensures colours pop and superb shadow and highlight definition to create black and white images fit for any wall.
CRYSTALJET ELITE is also available in a 260gsm gloss finish and 295gsm gloss and pearl finishes.
Click here for details, specs & description on manufacturers site.
UPC: 00019498166907
---
We Also Recommend