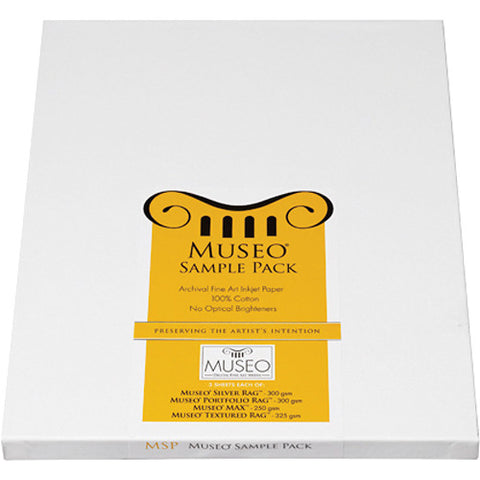 Museo Fine Art Sample Pack (8.5 x 11", 12 Sheets)
CRSAMPLE
The Museo Fine Art Sample Pack allows photographers and artists to sample and test Museo's four most popular media options prior to purchasing larger quantities.
The sample pack includes 3 sheets (each) of:
Museo Silver Rag, with a first-of-its-kind coating and 100% cotton furnish to bring out the best in B&W and color images with a traditional photo paper look and feel.
Portfolio Rag which combines an extra smooth cotton base with advanced coating for museum exhibition and portfolio prints that require exceptional tonal range.
Museo MAX featuring a luxurious finish optimized for pigmented inks and is ideal for art reproductions, color and B&W printing, portraits, graphics, and sepia prints.
Museo Textured Rag has its cold press watercolor surface enhanced with an ink receptive layer that allows for the most vivid images possible. It is ideal for art reproductions, fine art photo printing, digital art, exhibition prints, and portraits.