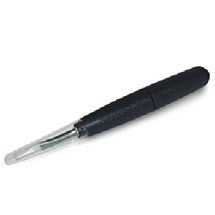 Arctic Butterfly SL707
V9469492
The Arctic Butterfly SL 707 from Visible Dust is a tool for cleaning the sensor of your small digital SLR or mirrorless camera. Its compact size allows it to fit easily into your gear bag. The patented design includes a DC rotary engine that generates optimal centrifugal force, which enables fast dust rejection--without the use of canned air--while increasing the charge of the fibers.
The Arctic Butterfly uses extremely thin Super Charged Fibers (SCF) that feature a nano coating for charge enhancement, enabling maximum dust removal. A metal ferrule attaches the fibers of the brush to the main body of the tool via a non-conductive joint. The SL 707 can even be used safely on sensors coated with Indium Tin Oxide (ITO), or on those in DSLRs having built-in sensor cleaning systems.
It requires 1 AAA battery (not included).
UPC: 00626570613275
---
We Also Recommend