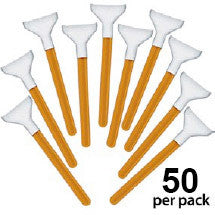 Vswab 1.0x (DHAP Orange Sensor Cleaning Swabs) 50 pack
V16908278
Designed for cleaning your camera's image sensor without leaving streaks, pooling, or abrasions, this 50-pack of DHAP Sensor Cleaning VSwabs from VisibleDust are specifically designed for image sensors measuring 24mm high, such as FX or full-frame sensors. The super-soft, double layer high absorbency construction makes these swabs especially well-suited to cleaning sensors without an optical low-pass filter, as well as delicate optical surfaces such as telescopes. Each of the swabs feature a unique mini-channel, with contour, in order to produce an even application of cleaning fluid on the sensor surface while also avoiding streaking, pooling, and over-saturation. The swabs are intended for single-time usage and are solely compatible with VisibleDust VDust Plus liquid cleaning solution.
Complementing working with the swabs, a VisibleDust SwabLight is also included which features a texture hand grip for added stability and a built-in light for improved visibility while cleaning.
1.0x-sized VSwabs measure 24mm wide and are well-suited for cameras featuring FX or full-frame image sensors, such as the Nikon D810 and Sony Alpha a7R, among others.
Double layer high absorbency fabric is made from thin, woven fibers and is designed to be non-shedding for use on delicate surfaces.
Fabric folding system creates a soft edge and prevents streaks or scratches from occurring when cleaning image sensor surface.
Mini-channel design maintains even saturation across the paddle's surface to reduce pooling or vertical flow of the fluid at the edges.
VSwabs are designed for one-time use in conjunction with VisibleDust VDust liquid cleaning solution.
UPC: 00713179288802
---
We Also Recommend