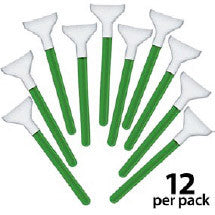 Vswab 1.0x (UltraMXD-Green series / 12 pack)
V4080470
The VisibleDust UltraMXD-Vswab is an innovative sensor cleaning swab with a unique "V" shape design that has several advantages over the more common square format swabs. The narrower edge of the V shaped swab minimizes the contact between the swab and the chamber wall reducing the chances of dust or lint from the camera body from falling on the sensor while cleaning.
Plus the "V" shape allows for better maneuverability and easy swabbing while inside the chamber, and allows the user to apply more equal pressure to the edge of the swab pad for a more homogeneous swabbing motion and less streaking along the edges.
The ultra thin MXD-100 multi fiber fabric of the Green Series swabs has a patented folding design to create a softer edge (compared to a hot sealing process), and is designed to be compatible with a wide range of VisibleDust solutions. The 1.0x size is specially designed to provide a single swipe cleaning action for "full frame" image sensors.
UPC: 00827912077582
---
We Also Recommend