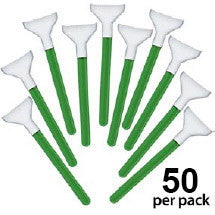 Vswab 1.6x (Ultra MXD -100 Green series), 50 pack
V16908147
The 50-pack of 1.6x Ultra MXD-100 Green Sensor Cleaning VSwabs from VisibleDust is designed to clean dust and oil off APS-C sensors. The wide v-shaped paddle will cover the sensor area without having to over swab, which could possibly damage the sensor.
The VSwab has a unique fabric folding system, which gives the already soft fabric a softer edge for cleaning against the sensor. The VSwab covers the sensor edge-to edge when wiping the sensor horizontally, without leaving streaks, pooling, or abrasions. Thanks to the mini-channel design, cleaning fluid is distributed evenly and moisture is maintained across the paddle.
VisibleDust recommends only using the VDust Plus, Sensor Clean, and Smear Away sensor cleaning fluids because both swab and cleaning fluids are calibrated to produce the optimal and safe results. A Swablight is included with the 50-pack of Sensor Cleaning Swabs.
VDust Plus,
Sensor Clean,
Smear Away
UPC: 00713179288796
---
We Also Recommend