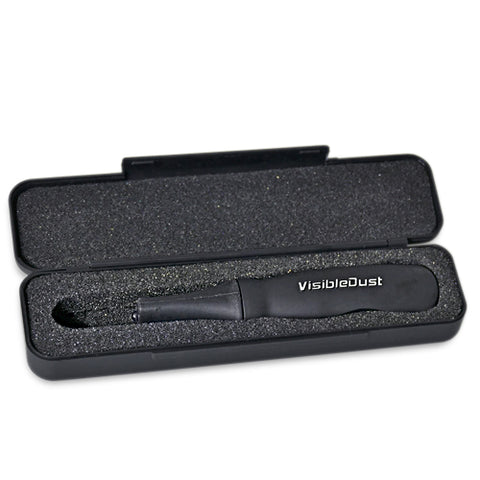 Arctic Beez pulsating device for sensor cleaning
V16424470
Arctic Beez is a pulsating device (patent pending) with frequency of 13000 rpm and a unique buzzing sound similar to that of bees. This vibration frequency is carried to the swab which is placed inside the device cavity. The Swabsonic Technology is powered by DC engine and smart electronic circuitry that generates soft sonic vibration to loosen dirt and stain on the coated sensor. It works 4X more efficiently than when the swab is used alone. One major cost associated with regular sensor cleaning is the number of swabs used per cleaning session in order to remove the stubborn stain. Arctic Beez helps to reduce the number of swabs used in sticky dirt situation leading to essential cost saving. This saving can accumulate over the years and seems to be significant enough to pay for a newer camera body.
Arctic Beez is equipped with one bright LED light illuminating the entire sensor and acting as a Swablight. Arctic Beez supports a firm grip on the swab helping to achieve a better and more precise edge to edge sensor cleaning. Arctic Beez Smart Vibration Technology is designed to push the dirt in forward motion and not lateral and yet to be safe on DSLR coated sensors.
By using Swabsonic Technology one eliminates the guess work and fears associated with the amount of pressure needed to apply on the sensor. The Swabsonic Technology allows for smooth and effortless gliding of the swab in forward motion making the wet sensor cleaning quick and fun experience even for the first time user.
Arctic Beez is only recommended to be used with VisibleDust Vswab, DHAP Orange and/or UltraMXD-100 Green
Arctic Beez essential features includes:
Swabsonic Technology powered by DC engine and smart circuitry.




Safe on coated sensor.




Equipped with Bright LED light.




4X more efficient verses sensor cleaning alone.




Strong grip for precise edge to edge sensor cleaning.




Packed in a classy case.




*Requires 2 AAA batteries (not included)



*Swabs are not included
Not recommended for cameras with IS (image stabilization) on the Sensor.
---
We Also Recommend